WBECS Pro Coach
Marketing and Sales
Tutorials
Learn the most powerful marketing strategies for generating leads, serving more clients, and making the biggest impact *Exclusively for Pro Coach Package Holders*
Opportunity to take part
in case studies, research
projects, and more
Exclusive opportunities to expand your learning and participate in cutting-edge research at no cost *Exclusively for Pro Coach Package Holders*
Preferred member pricing on
future WBECS programs,
products and services
Continuing coach education is essential. Get preferred pricing on the highest quality, global coach education available from world experts. *Exclusively for Pro Coach Package Holders*
Private
Membership Area
Register for live sessions and access your video/audio recordings, session slides, session transcripts, and session summary slides in your exclusive, easy-to-use, private Membership Area *Exclusively for Pro Coach Package Holders*
Premium
Coach Directory
Private directory to include validated client recommendations, ratings, case studies, and specialties. *Exclusively for Pro Coach Package Holders*
EMCC
Accreditation
Opportunity to earn an EMCC accreditation in a completely self-directed study curriculum, based on personal interests - choose your own path, and apply for accreditation at 70% discount from regular rates.
Coach Showcase
Opportunity
Opportunity to get "on stage" with your peers for vital skill development, exposure, and feedback. Working to build your network, gain exposure to new opportunities. Be among the WBECS coach community selected to be facilitators, hosts, and discussion leaders in the Full Summit Working on your webinar presence, or keynote. *Exclusively for Pro Coach Package Holders*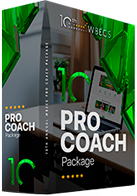 This level of learning is packed with value at an affordable price. PLUS get ALL of this for up to
43% off

when you take advantage of Early Bird Pricing today!